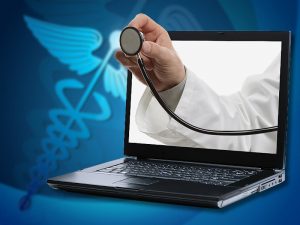 Building on prior action to expand reimbursement for telehealth services to Medicare beneficiaries, CMS will now allow for more than 80 additional services to be furnished via telehealth. During public health emergencies, individuals can use interactive apps with audio and video capabilities to visit with their clinician for an even broader range of services. Providers also can evaluate beneficiaries who have audio phones only. CMS is allowing telehealth to fulfill many face-to-face visit requirements for clinicians to see their patients in inpatient rehabilitation facilities, hospice, and home health.
Just released March 31, 2020, CMS issued a Transmittal 2020-03-31-MLNC-SE – Providers can bill for telehealth visits at the same rate as in-person visits. Telehealth visits include emergency department visits, initial nursing facility, and discharge visits, home visits, and therapy services, which must be provided by a clinician that is allowed to provide telehealth. New as well as established patients now may stay at home and have a telehealth visit with their provider. During the COVID-19 pandemic, telehealth services should be billed using the place of service (POS) code that would have been reported had the service been furnished in person. For example, a physician practicing in an office setting who sees patients via telehealth, instead of in person, would report POS-11-0ffice. Additionally, the telehealth modifier (modifier 95) should be applied to claim lines that describe services furnished via telehealth.
To enable services to continue while lowering exposure risk, clinicians can now provide the following additional services by telehealth:
Emergency Department Visits, Levels 1-5 (CPT codes 99281-99285)
Initial and Subsequent Observation and Observation Discharge Day Management (CPT codes 99217- 99220; CPT codes 99224- 99226; CPT codes 99234- 99236)
Initial hospital care and hospital discharge day management (CPT codes 99221-99223; CPT codes 99238- 99239)
Initial nursing facility visits, All levels (Low, Moderate, and High Complexity) and nursing facility discharge day management (CPT codes 99304-99306; CPT codes 99315-99316)
Critical Care Services (CPT codes 99291-99292)
Domiciliary, Rest Home, or Custodial Care Services, New and Established patients (CPT codes 99327- 99328; CPT codes 99334-99337)
Home Visits, New and Established Patient, All levels (CPT codes 99341- 99345; CPT codes 99347- 99350)
Inpatient Neonatal and Pediatric Critical Care, Initial and Subsequent (CPT codes 99468- 99473; CPT codes 99475- 99476)
Initial and Continuing Intensive Care Services (CPT code 99477- 994780)
Care Planning for Patients with Cognitive Impairment (CPT code 99483)
Psychological and Neuropsychological Testing (CPT codes 96130- 96133; CPT codes 96136- 96139)
Therapy Services, Physical and Occupational Therapy, All levels (CPT codes 97161- 97168; CPT codes 97110, 97112, 97116, 97535, 97750, 97755, 97760, 97761, 92521- 92524, 92507)
Radiation Treatment Management Services (CPT codes 77427)
Licensed clinical social worker services, clinical psychologist services, physical therapy services, occupational therapy services, and speech-language pathology services can be paid for as Medicare telehealth services.
A complete list of all Medicare telehealth services can be found here:
https://www.cms.gov/Medicare/Medicare-General-Information/Telehealth/Telehealth-Codes
https://www.cms.gov/outreach-and-educationoutreachffsprovpartprogprovider-partnership-email-archive/2020-03-31-mlnc-se