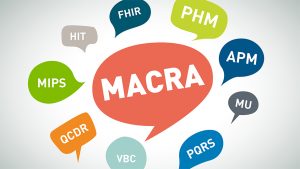 What is MACRA?
MACRA is the acronym for the Medicare Access and CHIP Reauthorization Act of 2015.  The legislation sets a roadmap for the future of physician reimbursement from Medicare.
How does MACRA affect physician reimbursement?
MACRA permanently repeals the SGR (sustainable growth rate) formula avoiding the 21.2% Medicare physician payment cut that was expected in 2015 and prevents further SGR cuts in the future.
Annual increases to Medicare Physician Fee Schedule services of 0.5% through 2019.
Continued transition from fee for service to payments based on value and quality of care via two methods:  (1) Merit-Based Incentive Payment System (MIPS); and (2) Alternative Payment Models (APMs).
What is MIPS?
MIPS combines multiple components from the Physician Quality Reporting System, the Value Modifier, and Medicare Electronic Health Record incentive programs and combines them into a single program.  MIPS incentive payments will be based on the following:
Quality;
Resource use;
Clinical practice improvement; and
Meaningful use of certified EHR technology.
What are Alternative Payment Models (APMs)?
    APMs include Accountable Care Organizations, Patient Centered Medical Homes, and bundled payment models.  CMS is looking for new ways to pay providers for health care services where these providers can show cost-savings and quality care.  CMS' Center for Medicare and Medicaid Innovation ("Center") routinely reviews new ideas for models that can demonstrate value based and quality care.  The Center can select new models to test, which may be included as an APM and eligible for increased reimbursement based on performance.
Are other payors involved?
Yes.  Employers are fed-up with consistent increases in costs of health insurance for their employees. A significant number of large employers are moving to non-traditional health insurance models, including self-funded and captive plans.  Insurers finally seem to understand that they cannot simply increase premiums each year and expect to retain the business, so insurers are developing their own alternative payment plans in an effort to move away from fee-for-service payments.  Bundled payments for episodes of care and rewarding physicians for cost savings are being rolled out by insurers.  We expect this trend in alternative payment plans from the insurers to continue to evolve at an accelerating rate in the future.
What does this mean for the future of physician reimbursement?
   It is clear that CMS and other payors are moving from fee for service to pay-for-performance models.  Providers can expect a continued shift towards bundled payments and an emphasis on patient-centered care.  This will require collaboration among multiple healthcare providers to ensure that each patient's healthcare is managed in a coordinated, cost-effective, high quality manner.
Payors are going to give bundled payments and incentive payments to entities that can successfully manage a patient's care from start to finish.  This includes managing a patient's entire healthcare as well as more focused payments based on a specific diagnosis or episode of care.  Money will be given to those entities that can demonstrate effective use of resources, quality patient care, and reduced healthcare costs.  In this situation, money is power.  The entity entrusted with the bundled payment will have the ability to control the network.  Most physician practices hope this entity will not be the hospital.  For independent physician practices to be successful in these new models, we believe that practices will need to be proactive in collaborating with other specialty providers to create a network of healthcare providers that can effectively manage a patient's care from start to finish.
Hospitals are currently in a prime position to lead ACOs and other bundled payment initiatives because they currently control the most expensive aspects of care. How many patients really need to be in the hospital when they can receive home care, be seen in a physician office, and have their procedures done in an ambulatory surgery center at costs much lower than a hospital setting?  If physician practices want to prevail in this matter, they are going to have to come together to achieve the size and scale necessary to leverage payors.  Physician-led organizations are also in a superior position to drive rapid change versus larger organizations with more layers of separation from the decision makers.
How can physician practices position themselves to be bundled payment leaders?
Get to a size and scale that payors cannot ignore.
Integrate and collaborate.  Form independent physician associations (IPAs), multi-specialty group practices, networks, or other models to consolidate overhead, streamline processes, collect quality data, and control a sufficient number of patient lives to go to payors and demand a per member per month network management fee.  Use this as a platform to eventually accept risk and bundled payments.
Communication:  Ensure that electronic medical record access is easily transferrable among providers in the network and accessible.  Providers within the network must communicate with each other to ensure continuity of care.
Develop and implement best practices and innovative ideas to improve patient outcomes and reduce costs.
Develop a mechanism to legally incentivize patients to participate in improving their health and reducing their own healthcare costs.
Make sure your electronic medical record technology has the ability to extract quality and performance data needed to obtain increased reimbursement.
Develop ancillary sources of revenue to supplement income instead of just healthcare services (e.g. management services, billing services, consulting services, medical directorships, real estate holding and leasing, equipment holding and leasing, etc.).
Written by: Samantha Prokop, Healthcare Attorney