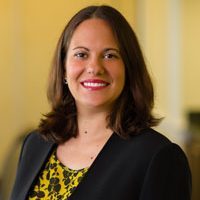 Samantha Prokop
Shareholder at Gunster Law Firm
In her counsel to corporate and health care companies, Samantha Prokop serves as an advisor to clients establishing new businesses, executing mergers and acquisitions, and navigating business disputes and break-ups. Sam has served as a risk manager and general counsel for a multi-location hospital system.
Through her-range of experience, Sam aims to help her clients remove barriers to develop practical, workable solutions to their complex problems, addressing immediate issues while developing long-term strategies for growth.
Sam assists clients in developing revenue enhancement strategies that seek to leverage ever-changing laws, regulations, and payment models. She also supports clients in evaluating their operations when striving to obtain the best value in the sale of their business or the acquisition of another.
Currently, Sam is the owner of Cooper's Creek, where she runs a horseback riding program. As a result, she understands, from first-hand experience, the operational side of business and the pressures her clients face running a business.
A focus on health care regulatory compliance
Clients reach out to Sam for help dealing with regulatory compliance matters including structuring arrangements to comply with the federal Stark Law, Anti-Kickback Statute, Florida Patient Self-Referral Act, Florida Patient Brokering Act, and other applicable laws, rules, and regulations, as well as evaluating these laws as part of acquisitions.
She is also dedicated to helping defend providers undergoing health care regulatory audits and investigations by commercial payors, Centers for Medicare & Medicaid Services (CMS), Medicaid, Tricare, the Office of Inspector General (OIG), the Department of Justice (DOJ), and state and federal prosecutors related to allegations of overpayments, False Claims Act violations and health care fraud.
Sam's representative clients include:
Medical device distribution companies
Group practices and independent physician associations
Hospitals and ambulatory surgery centers
Home health agencies
Nurse registries
Laboratories and diagnostic facilities
Medical executives and medical professionals
Accountable care organizations
Applying a focused, solutions-oriented approach aimed at advancing our clients' businesses
From a corporate perspective, Sam represents clients in a variety of industries seeking to establish new businesses by developing structures that attract new investors, owners, partners, and talent.
She supports clients in reviewing and negotiating contracts and employment agreements, establishing executive compensation arrangements, and drafting operating, partnership, shareholders' and buy-sell agreements and bylaws.
From the letter of intent through closing, Sam assists clients with mergers, sales, and acquisitions including handling day-to-day business disputes both internally and with outside vendors.
Sam's representative corporate clients include:
International and domestic manufacturing organizations
Software and consumer electronics companies
Consulting firms
Transportation and logistics companies
Higher education institutions
Real estate investment and development companies
Franchise businesses
Read Sam Prokop's latest news articles here.